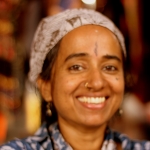 Charumathi Supraja
PROGRAMME FACILITATOR
Charumathi Supraja was born in Bangalore in 1975, when the city was still associated with gardens and pensioners. Though Journalism was one of three major subjects in her BA course, it was writing fiction and poetry that she dreamt of, while searching for the sky beyond a Mango tree she studied through school and college. By the time the tree was chopped, the house demolished and the city tagged with traffic and IT – she had married, made the start of a career in Journalism and had two children.
More than 15 years of Journalism, NGO and teaching jobs later, she met Augusto Boal's Theatre of the Oppressed, dived into acting, playwriting and theatre-making. Theatre facilitated her return to tree-gazing, Carnatic music (vocal and violin) and led her to explore Kalaripayattu and Tai Chi.
She was led back to her dream of writing fiction and poetry after Dum Pukht 2016 – a seriously fun and further life-altering writing workshop at Adishakti Theatre, Pondicherry. Her short story 'Eyes Full of Dreams' won the #Iwritefordiversity contest conducted by IIM, Bangalore. She's currently working on a couple of writing projects including what may choose to become an anthology of short stories or a novel, while pursuing "treevelling" (a word she invented for 'travelling to meet trees and revel in them'). She's also slow-cooking a theatrical piece about her relationship with trees and writing the fifth draft of a full-length play on matchmaking and marriage in contemporary India. She facilitates the sharing of people's tree-thoughts and memories through the 'Treevellers Katte' – a holding space for trees and stories. She wrote the script for A Mahatma called Gandhi (Media Fusion India Pvt. Ltd, 2007). Her work has been published in India Smiles (Penguin, 2006); 50 Writers 50 Books (Collins, 2013) and I dine sko/In Your Shoes(Norwegian, English and Hindi; Bokvennan Forlag, 2014).
Charumathi is deeply interested in listening to people's stories and believes in the power of stories to heal the worlds that people inhabit. She would like to apply the synergy between stories, education and creativity in classrooms and learning spaces of diverse kinds.