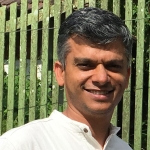 Varun Rupela
PROGRAMME FACILITATOR
Varun has a master's degree in computer science. He has over ten years of experience working in the IT industry. After the stint in IT, he worked with Navadarshanam Trust in setting up their CSA (Community Supported Agriculture) program. He is a member of the Aastha Foundation for Human Learning and Growth and continues to inject elements of personal growth and coaching into many different spaces.
Varun's interest in community work and ecology has led him to design and install community composters for a large residential community with 200 apartments.  A Punjabi, born and brought up in Hyderabad, Varun has a way to make you feel comfortable around him. He loves the feeling of fresh compost in his hands and the idea of traveling by himself. He dreams of transforming the World into a Million Collectives that are Self-Governing, Self-Healing and Sustainable.
Varun is currently training to become an Arts Based Therapy (ABT) Practitioner. He is doing his ABT program with Prajnadhara, which is an initiative of Snehadhara Foundation. As part of his action research program, he practices at the Nightingales Medical Trust to host sessions with a group of Senior Citizens (Nightingales Medical Trust is a professionally managed Not-for-Profit organization working for the well-being of the elderly, with multiple centers in Bangalore. The organization specifically provides dementia and alzheimer's care, promotes active-ageing programs, empowers the elderly and engages in capacity building.)
Varun Rupela currently also works as a Principal Analyst at Smarter Dharma. The company works on water, waste, energy and carbon optimization, primarily with the construction industry. Varun is responsible for managing operations and projects within the company.