Government schools are a great starting point to mainstream inclusion as there is evident acceptance of diversity in learning. Working with them has allowed us to further our efforts of taking creative interventions into schools and touch the lives of a vast spectrum of children.
At the heart of this programme is the belief that every student deserves access to arts practices that create opportunities for a learner to belong, learn together and meet learning outcomes with a sense of togetherness and acceptance. SF to harness the immense potential of arts in promoting social change and building stronger, more compassionate communities of children. In our true SF way, we are taking the universal language of the Arts to express our emotions, share our stories, and bridge divides.
Given the limited availability of resources and budget allocations, our direct interventions with government schools are largely self funded.
Our Work with Government Schools in 2023-24
Number of Children Impacted
Districts Covered in Karnataka
A commitment to equity, accessibility and respect for the unique abilities and perspectives of all individuals is an absolute prerequisite for promoting arts for inclusion. Our work of more than a decade has demonstrated that by creating an inclusive arts environment, we can foster creativity, empathy, and social cohesion within our communities. We believe that arts for inclusion means ensuring that all individuals, regardless of their background or abilities, have access to environments where one feels belonged and the freedom of choice. Our Arts Practices for Inclusion programme which is the core of our offerings works with various vulnerable groups and goes towards co-creating these envisioned spaces together. In our quest to expand the social world of the children with disabilities who have been denied admissions in schools, a thought sprung up -if the children cannot get to regular schools, we bring the schools to them.
GLPS School Arjunabetahalli
Since 2021, Snehadhara has been working with the Government Lower Primary School at Arjunabetahalli to meet spoken English goals. There has also been a consistent focus on their psychosocial and emotional wellbeing. The work with the group has also largely been about creating inclusion by bringing the group to the Direct Care campus and in Sangam programmes to increase their social world. Arts-based methodologies have been used to meet these goals and the group has seen tremendous shifts in their inclusion quotient through these programmes. 
Hitha Chinthana School, Golahalli
Our work with the PU group at the Hitha Chinthana School, Golahalli is focussed on creating opportunities of learning for the group and inspiring them towards their future. Using arts-based methodologies lends itself to give them a safe space to express. The group has been speaking about entrepreneurship and role models through the sessions, getting inspired to better themselves, and sharpening their goals and dreams.
Lower Primary School, Guttepalya
The young children at the Guttepalya Lower Primary School have been a part of sessions with stories, music and dance- bringing together the arts methodologies to work with them on psychosocial well-being and creating inclusion. The group has also had an opportunity to visit our campus and interact with children with disabilities in an inclusive and open environment.
Lower Primary School Hyadalu
The sessions at the Lower Primary School Hyadalu at Nelamangala Road look at opportunities for the group to build on social and emotional skills through songs, movement, play, drama and visual art. The sessions continue to explore art forms and give the group a space to express themselves and find the fun and joy in learning together. There have also been opportunities for children with disabilities from our campus to visit the groups there in our strive towards inclusion.
Golahalli Higher Primary School
The sessions at Golahalli Higher Primary School with the children have been full of stories and songs alike, with the group coming together beautifully to experience ways of expressing themselves using the multi-arts. They have been delving into multiple short stories, songs and more to work towards their psychosocial and emotional wellbeing and create experiences of inclusion. 
Gopalapura Higher Primary School
The sessions at Gopalapura Higher Primary School with the children have been an opportunity to understand academic concepts using multi-arts methodologies. The group has explored different professions, and focussed on the bodily function of the heart and learning those through songs, dance and drama! 
Previous Work with Government Schools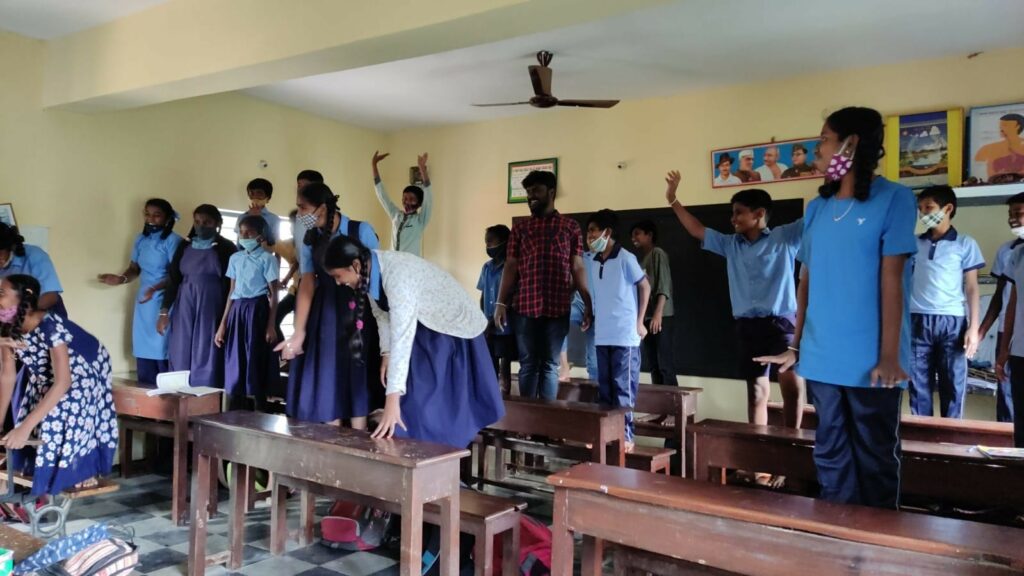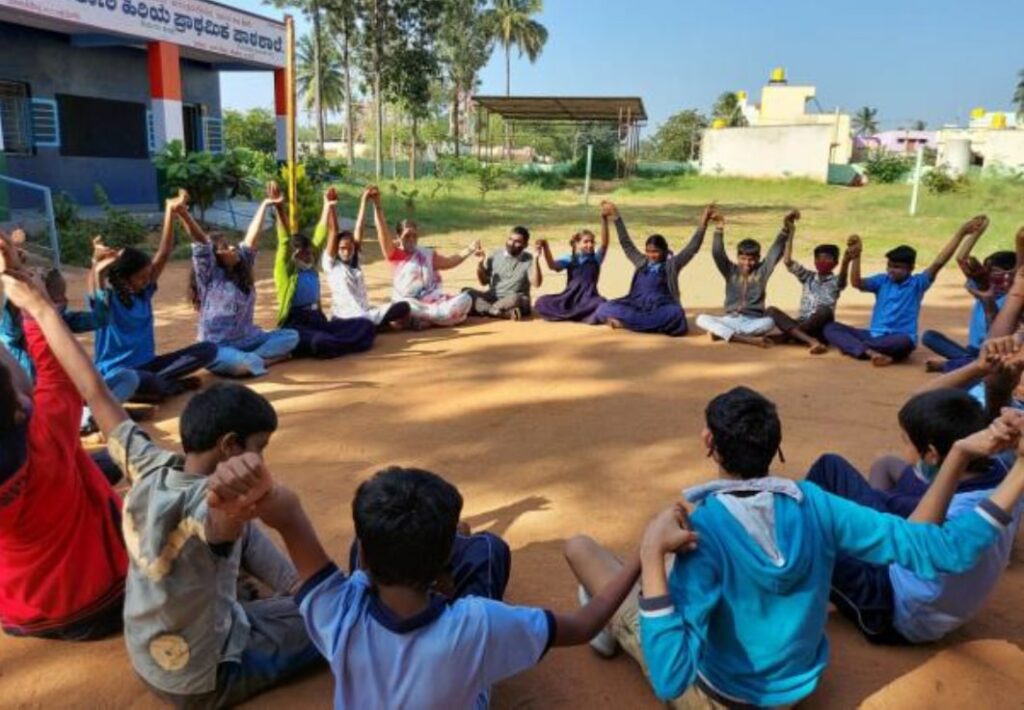 The NSHPP Government School was the first school that we started working with in Nelamangala. The programme saw us looking at psychosocial well being and academic syllabus through the multi-arts. Using theatre, drama, play, movement, visual arts and music, the group was able to work towards these goals. It was also an opportunity where we took children with disabilities from our campus to their premises to give them classroom learning experiences. The children of the school continue to have questions on how people are different, they continue to promise learning spellings and the children continue to tell us that we can ally with each other and do this together. 
Through Visthar we reached out to the children and educators of Bandhavi, at Koppal where the daughters of Devadasis receive a holistic education. We flagged off impART's programme for the children and educators of Bandhavi, with a monthly workshop series on Facilitation through the Arts from December 2018 to February 2019. The sessions saw 27 children and 7 facilitators gather and re-imagine their worlds, aspirations and acknowledged their own power to be the change in the Universe. They explored the use of the arts to express their inner landscapes.
We began a programme association with Riddhi Foundation, to focus on using multi-art forms and technology to enrich learning within classrooms for children at the Hulimavu Government School, Bangalore. The various artistic tools to be used include: Music – Voice and Rhythm, Dance and movement, Stories – sharing and creating, Visual arts, Theatre and drama, puppetry and role plays. The aim was to create a platform for peer and socio-cognitive learning.
In 2015-16 the focus was on Class 6. The objective of our work was: To draw Content from English and Science textbooks for Class VI and deliver them using multi-art forms. In 2016-17 the objective of our work was to draw content from English curriculum. We facilitated 20 contact sessions each in English with Grades 6th, 7th and 8th. Sessions were explored using artistic processes like storytelling, dance and movement, and music and theatre to address the language needs.
As a part of this year long program we worked with the Puttenhalli School redesigning a part of their science textbook content artistically. The aim was to address gaps in the language and social domain. The concepts of water cycle, conservation and eco systems were brought to the classroom through movement, voice, visual arts and play. This program was supported by India Foundation for the Arts (IFA).
This program focused on building English language and social domain skills in children (who study through Kannada medium ) at this government school through art and play. It focused on improving confidence and articulation skills among this group of seventh graders.