We have participated in several conferences that have sought to share ideas and exchange information in the realm of Arts based interventions as well as innovative learning practices.
LEAPS SUMMIT, Qatar 2019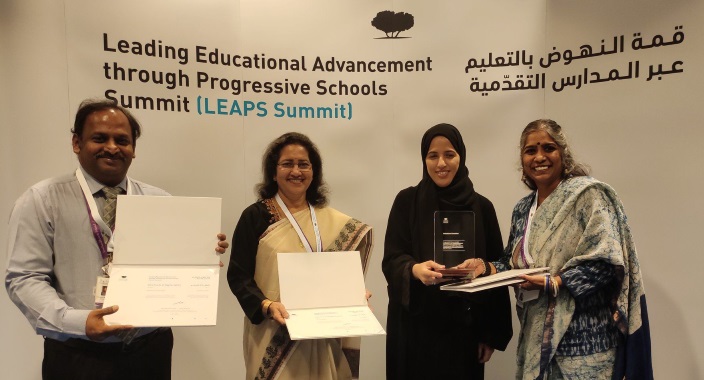 Snehadhara Foundation was honoured to be part of the LEAPS (Leading Educational Advancement through Progressive Schools) Summit hosted by Qatar Foundation, Doha today. At the Round Table today with Vice Chairperson and CEO Her Excellency Sheikha Hind bint Hamad Al Thani, Gitanjali Sarangan (Founder and Executive Director), Sumathi Ramjee (Joint Managing Trustee) and Soundararajan Sarangan (Managing Trustee) shared the story of Snehadhara Foundation's innovation in education and in reimagining classrooms using the arts. We were honoured to be one among the 6 global progressive institutions along with Lumiar Foundation, South America and UK; Hub School 21, France; NuVu, US; Kingsland Pre-Prep, UK and Agora School, Netherlands.
Conferencia Internacional - Por una Educacion que despliega las habilidades del Ser, Buenos Aires - September 2019
Our Executive Director, Gitanjali Sarangan speaks about Construyendo la inclusion a traves de las Artes – Building Inclusion Through the Arts and launches the Art Practices for Inclusion at the  at the Conferencia Internacional – Por una Educacion que despliega las habilidades del Ser          (translated as For an Education that dis
plays the abilities of Being) in Buenos Aires.
This Conference also had Juan Mora y Araujo-National Director of Popular Economy and Director at Ministry of Health and Social Development of the Nation, Argentina, Dr. Christian Plebst -Speech Therapist and Director of the Conscientious Teaching Academy,South America, Lorena Llobenes-Paediatric Neurologist , Natali Gumiy- a practising Psychologist and Maxie Aubi-Director , Casa Angelman.
Right to Play, 2018
Our Founder and Executive Director Gitanjali Sarangan was at the Discussion on Right to Play on Saturday, March 9, 2019 at Christ (Deemed to be University), Bengaluru, organised by Headstreams, Christ (Deemed to be University), Smt. VHD Central Institute of Home Science, St. Joseph's Autonomous College and Gudgudee.
AEE 45th International Conference, At Montreal, Canada, 2017
We presented at the 45th AEE conference that brought together a worldwide community of more than 700 practitioners, teachers, therapists, facilitators, adventure guides and trainers. Our Founder and Executive Director Gitanjali Sarangan was one among the six chosen speakers at the fourth year of ActivatEE. ActivatEE is designed to facilitate the process of creating one's story, inspiring the use of one's voice, and launching an idea – all on stage during a conference keynote. We presented our story 'Inclusion, the gift of presence'.
Imagine Play and Creative Mediums, Bangalore, 2017
It was indeed an honor to be a part of the panel with Ms. Mina Dilip, Rajesh P.I of Actor's Collective, Professor Sudarshan Khanna, Naveen Thomas and Rathnesh Mathur at the International Conference on Perspectives and Practices in Play. With Aditi-Ratnesh Mathur
Arts and Gallatta @ Conference on Perspectives, Bangalore, 2017
The session had children from St.Mar Thomas Opportunity, parents, care givers , educators and delegates who were participating in the conference. What we explored together was play with voice, play with rhythm, play with energies, play with new groups. Naturally buddies emerged as an adult worked with each child.
EEC, Gurgaon, 2016
The Experiential Educator's Conclave focused on the application of experiential learning, The art of Facilitation and teaching, Integrated Learning Environment and Classroom Practices. Our Executive Director spoke on the topic Synaesthesia of the Arts for Mainstreaming Inclusion.
NIEPMD, Chennai, 2016
Our Founder and Executive Director, Gitanjali Sarangan and Sumathi Ramjee facilitated a day long conference at the National Institute for Empowerment of People with Multiple Disabilities (NIEPMD) in Chennai this Saturday, the 17th June, on using ARTS BASED THERAPY AS A COMPLEMENTARY HEALTHCARE PRACTICE.
Manoyatra, Bangalore, 2014
Co-creating Learning Spaces Using Multi-Art Forms -Facilitated a workshop with mental health professionals and students at 'Manoyatra'- A symposium of workshops on Creative Therapeutic Methodologies.