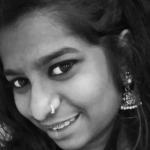 Divya Sarangan
PROGRAMME FACILITATOR
Divya has finished her education at Centre For Learning (CFL) and is 18 years old. CFL is an alternative education system which she strongly believes in and which has helped her with her aspirations by providing her with a lot of exposure and experiences. She believes that what she is today and her outlook on life has been shaped by the two most important factors, the relationship she shares with her parents and her schooling at CFL.
She is interested in various arts. Divya enjoys Indian classical music and is learning Carnatic and Hindustani music. Old Hindi film music fascinates her and she treasures them by writing down lyrics. She also enjoys dance thoroughly, any form of dance, though her favourite being Kathak. Both these are something she can go on doing for hours! She loves working with her hands. This includes making jewellery, products out of newspaper, waste material, and most importantly Zen tangling.
Alongside all this music, art and dance she is very interested in social issues and rights. Divya truly believes she is a "people's person" because she loves interacting with people of all age groups, from infants to senior citizens! She is extremely fond of babies and children. Discussions about social issues and topics like gender, equality , sexuality, caste , violence and so on , she believes is very close to her heart .
Her vision and future stems from all her interests and she is now seeing how she can combine all of  them. Divya is looking to travel to various spaces, schools, organizations and meet more people. Working with children and adults who are underprivileged and a part of social minority groups is something she is very keen on doing. Through drama, theatre, documentaries, and music she wants to see how to create awareness of issues as well as people's alternative choices that go against  conventional norms. Being with babies is something she strongly wants to do, for example she is looking at being in an orphanage for a few months or years. Overall being with people is a beautiful process for her!