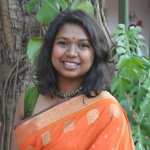 Ruthika Javaray
PROGRAMME FACILITATOR
Ruthika believes it is a good day, when she has brought out the best in everyone, including herself. Having worked in cancer research for 7 years, she understands the importance and fragility of life. But her real interests have always been in working towards improvement of quality of life in the world. She completed her Diploma in special education for learning disabilities in 2017 and is recently a certified ABT practitioner. Working at Tamahar Trust as a program manager, she consults at Snehadhara as an ABT practitioner. Ruthika strives for excellence and wishes to make the world a better place by imbibing the spirit of mindfulness.
"I draw my motivation from everyday experiences and have deep respect and admiration for nature". Not the one to shy away from a challenge, she is always looking to expand the horizon and welcomes multiple perspectives. Ruthika is a promoter of arts and is a painter and dancer herself. She also enjoys the occasional jewellery designing.
A fun loving mother, teacher and friend, she enjoys life one moment at a time, knowing that faith is all about believing, you don't know how it will happen, but you know it will.