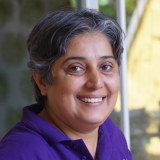 Shailaja
Associate Director
As Associate Director, Content and Programmes, Shailaja has in the last three years, looked at curriculum planning and design implementation at the Direct care space at Snehadhara as well as in a few projects across the country. She has worked with the facilitators to create content for the Hulimavu Government School project under Snehadhara's engagement with the Riddhi Foundation. She has co- facilitated and independently facilitated sessions on the 7i program at HLC Chennai with children from Grades 6 to 9 and the teachers, a program that looks at inclusion in depth. This program moved from direct facilitation with the children to empowering the teachers to take on the onus of the 7i program towards relationship building and meaningful learning. It involved training the teachers for facilitation and curriculum design for the sessions with the children as well as conducting sessions for teachers themselves on self experience.  She is currently working with Smart Wonders School, Mohali on a year long programme on Creative Interventions in Reimagining Classrooms through Dialogue Circles that looks at deeper connect and communication between educators and children.
Snehadhara has worked with Headstreams to create the Certificate Course in PSYCHO-SOCIAL WELL-BEING USING MULTI-ARTS AND PLAY , which has been carried through in four colleges in Bangalore. Shailaja has facilitated some of these sessions as well. She has worked with the teachers of Kamala Niketan at Trichy  on  ' How Play – Directive and Non Directive could be used to achieve academic and curricular goals in classrooms'. She has also co-facilitated sessions for teachers and students on "Creative Interventions in Co-creating Empathetic Inclusive Learner led Classrooms" in Matrikiran School, Gurgaon.
A Commerce graduate, Shailaja moved from accounting packages to education a decade ago. In this time she has explored the world of education through teaching at three mainstream schools in Chandigarh, Gurgaon and Bangalore, that tried to look at education progressively and bring in meaning that could be possible within the constraints of the system. Besides academic content, there has been a special emphasis on Quality Circle Time and Life Skills program in her school interventions both with students as well as teachers from Grades 1 to 10.
Shailaja has also looked more significantly at education through her work in Chandigarh, with CEVA an NGO, an educational resource centre that advocated alternative methods for teacher training in schools and engaging with lesser privileged spaces in the city along with an engagement at COVEDA, an alternative learning centre based on Sri Aurobindo's philosophy. Added to this is her association with Centre for Learning, Bangalore, as a parent, a space that gave a lot of meaning to how 'I look at life itself especially relationships.'
'How children learn' has been a quest from the beginning along with understanding how emotions govern learning. To move from 'teaching from the head to the heart', brought Shailaja to Snehadhara. She feels that working with children is the best way to learn about oneself, to look deeper into and question belief systems and patterns, to gain a larger perspective about life.